SonicWall Security
SonicWall is a longtime provider of a full family of security solutions offering enterprise features at SMB (Small/Medium-sized Business) prices. J&M Systems has decades of experience in recommending, installing, configuring and managing SonicWall products and uses them extensively to facilitate their own secure operations and remote access.
Layered Network Security
SonicWall's family of firewall and network security appliances provides a total security platform and J&M offers as much — or as little — support as clients need to configure and manage robust security for our clients' mission critical networks. Layered security; integrated gateway anti-virus, anti-spyware intrusion prevention; Comprehensive Anti-Spam and Application intelligence; and Control and Visualization for real-time threat protection all combine with the Sonic OS operating system to bring J&M's SonicWall-using clients maximum security with maximum configurability.
Secure Remote Access, Remote Support and Remote PC Access
With SonicWall Remote Access and Web Application Firewall service, SonicWall users can obtain secured access to network resources from branch offices, home offices, the field and the road. And these resources are available to client hardware ranging from desktops and laptops to PDAs and smartphones — with no pre-installed client software required. Additionally, SonicWall Virtual Assist/Virtual Access provides remote help-desk access to non-IT-managed laptops and PCs, as well as remote PC access to unattended Windows-based computers to increase productivity.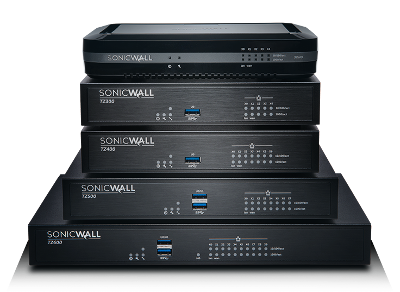 Web and Email Security
The worst threats often come in non-suspicious packages — an email from a colleague or customer or an automated widget that forms part of a web page. And the viruses and Malware that create these problems are just as big a challenge for small business as they are for the Fortune 500. SonicWall's Content Filtering Service and Email Security protect web browsers and email inboxes free from virus-laden emails, spam and "phishing" attacks.
Management, Monitoring and Reporting
SonicWall's broad spectrum of tools are easily manageable through the ViewPoint reporting system, allowing your small business and/or J&M to easily monitor all aspects of your security configuration and performance: bandwidth utilization, VPN reporting, threats observed, and web site usage. Beyond offering a detailed and easily "zoomable" perspective on your company's security landscape, these tools give businesses that need it the ability to attain and maintain compliance with regulatory mandates.
Wireless Networking
Businesses wishing to integrate wired and wireless access within their businesses use SonicWall tools including Unified Threat Management, Reassembly-Free Deep Packet Inspection and a wide range of VPN technologies to ensure that their wireless networking is every bit as secure as their wire-based communications. Businesses — or J&M working on their behalf — can implement multiple zones of access for both wired and wireless users while maintaining total control over what is being accessed by whom.